North American River Otter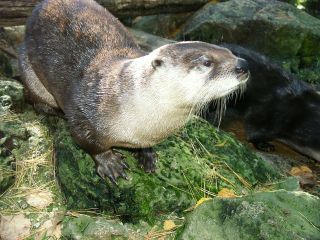 GarLyn Zoological Park added a pair of North American River Otter in the summer of 2001. They were about three years old, and mischievous. They are like giant ferrets. Into everything and tearing up whatever they can, just to see what's in it or behind it. The enclosure that was originally built for them ended up being just about totally rebuilt or "otter proofed" as I now refer to it. North American River Otter grow to about 3 feet long. A South American species grows much larger. Their main diet is a specialty feed made for mink. They also enjoy treats of dog food and an occasional frog or small fish. The enclosure is built with a glass tank in front, for viewing the otter while swimming as shown below. And boy do they love to swim. The female does backward rolls underwater, looping around and around and around until you get dizzy just watching her. But she loves it.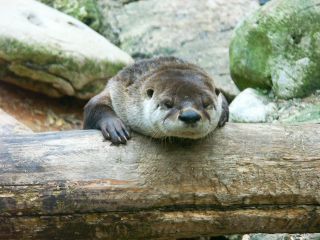 River otter have to be one of my favorite animals.
But watch your fingers, elbows or any other body part, this cute little mug bites!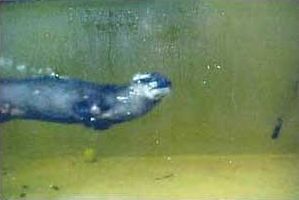 This is a view thru the glass of the otter swimming.
If you would like to see more photos of otter
at the zoo CLICK HERE

Click on the link below to hear some animal sounds at the zoo
Animal Sounds